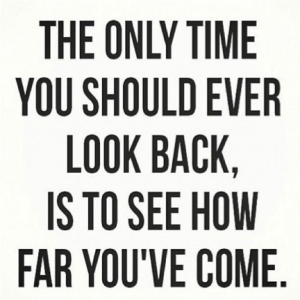 This winter Mint is in its 10th year. That's ten years of teaching, training, shredding, adventuring and making snowboard dreams come true.
But where did Mint come from?
Sharing is caring so on our 10th birthday we wanted to share with you some Minty history and highlights. So let's time travel ourselves back to 2006 when Mint was just an apple in the eye of Tammy Esten…
2006 | The year of firsts
In 2006, for the first time ever, and after years of protest, 15 BASI (British Association of Snowboard Instructors) snowboard instructors gained the right to teach snowboarding in France (previously illegal!). These lucky few were given the elusive Carte Professionnelle and Tammy Esten was one of them (one of only 3 females). Already qualified to the highest international level she was finally allowed to teach snowboarding in France.
2006 | Mint was born – what do you mean you don't teach skiing?
With her Carte Pro still hot off the press Tammy set up Mint Snowboarding. The goal? To create a snowboard school, providing the best possible snowboard instruction, and delivered by skilled & passionate snowboard instructors. Mint became the first and only school in the whole of the Portes du Soleil dedicated solely to teaching snowboarding, a fact that some still find somewhat confusing!
2007 | this one time… at band camp
In 2007 Mint started running week-long snowboard camps, initially female specific and called Just 4 Girls. The program of camp offerings has expanded greatly since; with clients regularly returning year on year to take part in these uber fun weeks.
2008 | Minty was born
Every good brand needs a great mascot. Mint has Minty. Once known for his fearless backcountry lines, Minty is now head of all things mini-shred!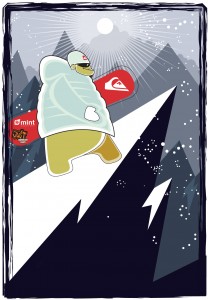 2009 | Roxy called and said… "We want Tammy!!!!"
In 2009 Tammy became an ambassador for the most successful girls-only snowboard brand, Roxy. From 2011 Tammy & Mint began running the Roxy snowboard camps.
2009 | Small and perfectly formed – the birth of Mini-Shred
In 2009 Mint started saving innocent 3-7 years olds from a winter nightmare of making pizza shapes on skis. Instead they offered them specialised snowboard lessons and so the wonder that is Mini- Shred was born.
2010 | Seasonnaire Freestyle Coaching
As Morzine -Avoriaz's reputation as an international snowboard destination exploded so did the influx of snowboarding seasonnaires. Realizing this pool of talent had poor finances Mint started running local coaching programs and affordable seasonnaire freestyle lessons because… well because the locals are worth it!
2011 | The Helgason brothers compete in The Mint Mountain Invitational!
International superstar riders Halldor and Eiki Helgason, Aimee Fuller and Jake Olson-Elm all signed up for The Mint Mountain Invitational a totally original snowboard competition run by Mint.
2011 | Training the instructors of tomorrow
Mint teamed up with Peak Leaders to offer the first, and still only, BASI snowboard instructor-training program in Morzine. Mint Snowboarding has successfully trained and inspired dozens of new instructors, achieving fantastic pass rates through their BASI exams.
2012 | Mint & Burton fell in love
In 2012, Mint became an official Burton Learn to Ride Centre. Burton provided the best snowboard equipment in the world, Mint provided the best instruction in the world. A perfect match was made and global domination began …
2014 | Mini-Shred went GLOBAL !
Now many years into developing teaching methods for 3-7 years old, Mint and Burton decided to collaborate on a short video. The aim was to educate the world on mini-shred snowboarding and to dispel any remaining myths about teaching young kids to snowboard. These goals were undoubtedly achieved as 'The Mini-Shred Movement' went VIRAL! And Mini-Shred GOT BIG!
2015 | From 3 years old to 73 years old
In winter 14/15 Mint met young Donald, a 73 year old grandfather with a passion to learn to snowboard. 'Pensioners on snowboards?' the world cried out in disbelief and shock. 'Hell Yeah!' Mint shouted as they slid by with Donald, shredding through yet another snowboard misconception.
2015 |Developing the stars of the future
In 2015 Mint made further steps towards contributing to the future of snowboarding, this time focusing on kids living in Morzine and the surrounding area. Thus far local kids had nowhere to train. Mint solved this by creating the Local Kids Program, with 18 kids under 7 yrs on the inaugural snowboard camp in April 2015. Watch out for local groms charging past in winter 2015/16!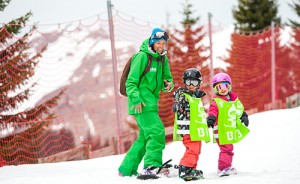 Last but not least
In 2015 one of Mint's longest standing instructors, David Gladwin, qualified as a UIAGM Aspirant mountain guide making him one of a handful in the world holding these dual qualifications. Mint's off-piste and backcountry offers are now off the radar with more big mountain snowboard adventures than you can shake a selfie-stick at.
And the future?
2017 is already getting busy. Even before the season begins Mint already has a fully loaded schedule outside of our regular snowboard school program. Including the Local Kids Camps, the Seasonnaire Freestyle sessions, the Snowboard Camps, Mini-Shred Movement, Instructor training, backcountry program & Donald and his 73 year old mates.
The last 10 years has seen great moments in Mints history. We are very very exited about the next 10 years and we really hope YOU will be a part of them.
Book Now
"I cannot find enough superlatives to describe the service and teaching I received from Mint snowboarding!"
Justin