Family Snowboard Holidays
Package holidays for families that shred!

Snowboard School
FAMILY SNOWBOARD HOLIDAYS
Families have been enjoying Our Mini Shred Snowboard Holidays since 2012, these popular holiday packages include stunning accommodation, delicious food and superior snowboard instruction for your kids. For winter 2017/18 we are really excited to be partnering with 'Skiology' chalet company. Enjoy your family snowboard holiday in a superbly situated catered chalet in central Morzine and with the kids booked into snowboard lessons with the reputable MINT Snowboard School. Dates for the mini shred holidays are set for the spring and the Easter holidays, when the weather is warm and the snow is soft and slushy… a perfect time of year for kids learning to snowboard!
The Tuition
MINT Snowboarding will provide tuition for the children for 3 days either on the Morzine or Avoriaz slopes (dependent on snow conditions and ability). The main focus of the lessons will be learning through fun & games, enabling your children to adopt the basics of snowboarding in an exciting and stimulating environment.
The kids are partnered up and taught in pairs by one of the MINT kid specialist instructors. For the younger first time snowboarders we encourage parents to stay around and get involved in the lessons – enjoying your child's first time on snow with them.
The package includes 3 x 2hr lessons over 3 consecutive days, with the option of booking further lessons. Lessons are based upon 2 kids, of a similar age & ability, sharing. If you prefer your child to have a private instructor, this is possible with a small supplementary fee.
Did you know that ski passes are FREE for children under 5 years old in the Portes du Soleil?!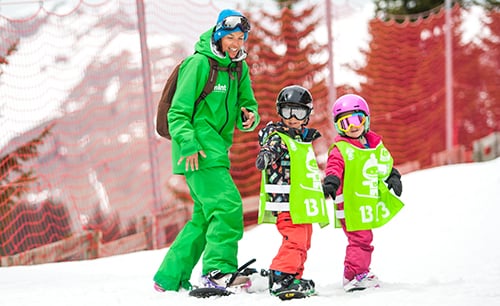 The Equipment
Snowboarding equipment for the children is included in the package. This will be Burton Riglet snowboard equipment (boards, bindings & boots) with Riglet Reels where needed. You will need to provide all other equipment and clothing.
The Accommodation
Your accommodation will be in one of the Skiology chalets located in central Morzine, either Chalet George or Chalet Sapin depending on which week you book. Skiology are focused on giving you the ultimate family snowboard holiday by providing a fantastic service in beautiful chalets and with delicious and nutritious meals.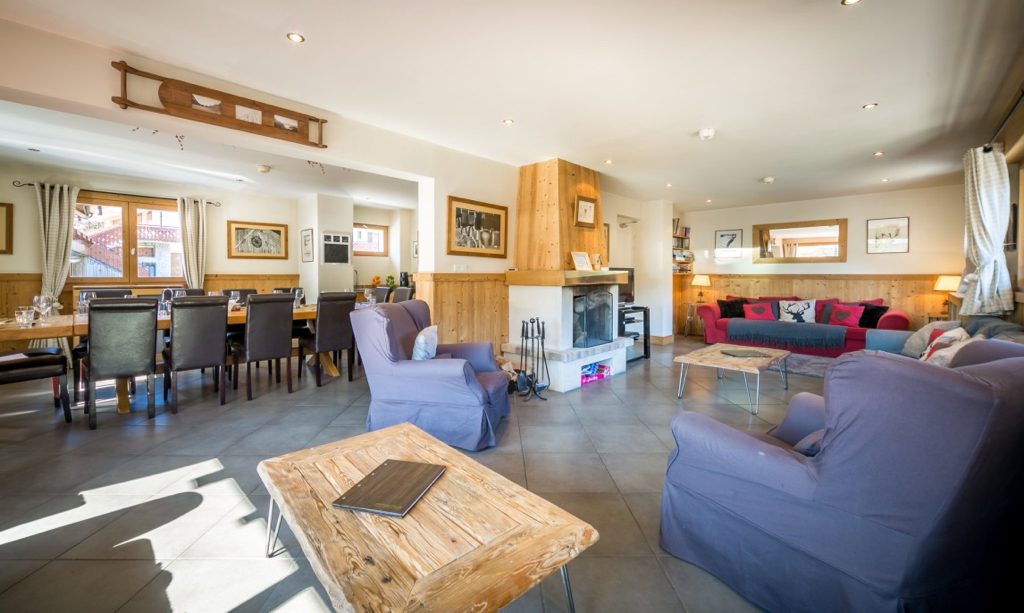 Family Snowboard Holidays – 2018 Dates & Prices:
18th – 25th March 2018 | Chalet Sapin | £799 for kids | £629 for adults
25th March – 1st April 2018 | Chalet Sapin | £822 for kids | £699 for adults
25th March – 1st April 2018 | Chalet George | £877 for kids | £749 for adults
8th – 15th April 2018 | Chalet George | £729 for kids | £549 for adults
Price Includes
7 night chalet accommodation with Skiology
Grand Sapin : Chef and Host. Wake up drinks service, cooked breakfast, afternoon tea & cakes and 3 course dinner with bottomless organic wine every catered day (Weds is staff day off when a continental breakfast is available) (full details)
George : 6 Flocon chalet. Head Chef, Chalet manager and Host. Wake up drinks service, a la carte breakfast, afternoon tea & cakes, 5 course dinner with canapés, cheese and bottomless organic wine every catered day (Weds is staff day off when a continental breakfast is available)  (full details)
3 x 2 hr private lessons based 2 sharing* (kids only)
Rental snowboard equipment (kids only)
For more info or to answer any questions on our family snowboard holidays, please send us an email
*In the unlikely event that we are not able to find a suitable match to share lessons with your child (ie a child of similar age and ability) then there will be a supplement of 75€ to pay and your child will receive 3 x 1.5 hr private lessons. Private lessons will give your child the individual attention of an instructor, allowing them to progress much faster and with increased confidence.