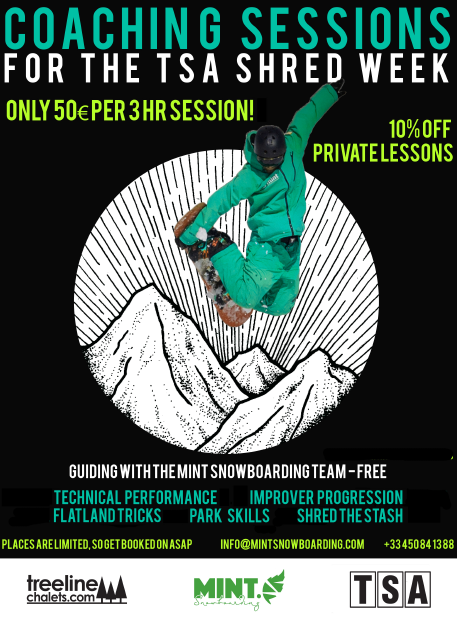 We are back again with our friends at TSA and Treeline chalets on the upcoming TSA Shred Week. MINT Snowboarding have a fantastic program of snowboard coaching to end your season in style. From FREE guiding, REDUCED RATES on Freestyle & Technical Sessions and DISCOUNTED private lessons, the MINT Snowboarding team are offering something awesome for everyone.
Here is what we have on during the week!
Monday 16th April
10.00 – 12.00: FREE Guiding with the MINT Snowboarding Team
Only available to those booked on the TSA week…
Shred around Avoriaz with the MINT Team. Whether you are wanting to find the best runs, be shown all the side hits, or explore our favorite areas with us on the mountain, everyone is welcome! Riding groups will be created according to what you are wanting to find! There is no coaching involved in this session.
Tuesday 17th April
09.30 – 12.30: Improver Progression
For those who have done a week or two of snowboarding and want to focus on developing technique, building confidence and riding more challenging runs, join us for this session to kick start your week in resort and really progress your riding.
13.30 – 16.30: Flatland Tricks 1
Flatland tricks are great fun and spring slushy snow is the best time learn them. In this session we will teach you everything you need to know to master new buttering tricks whilst making them look easy, fluid and stylish.
Wednesday 18th April
09.30 – 12.30: Technical Performance
For intermediate & advanced level riders who have had little or no formal coaching. We will focus on specific technical aspects of snowboarding which will change the way you ride and enhance your enjoyment of the mountain.
13.30 – 16.30: Flatland Tricks 2
Take your flatland skills further with a progression from the Tuesday session, learn even more butter tricks and link them into combos that will improve your style on the mountain.
Thursday 19th April
09.30 – 12.30: Park Skills
Have you got park tricks that you want to get dialled before the season is out? Join us on this session to progress your riding on the jumps, rails & boxes. It's an awesome opportunity to learn some new tricks and gain confidence riding in the park.
Friday 20th April
13.30 – 16.30: Shred The Stash 
Join one of our Stash Gurus and learn the skills to riding the different features The Stash has to offer. This session is an awesome end to the week!
DETAILS FOR ALL SESSIONS:
Duration: 3 hours
Price: ONLY 50€ per 3 hr session!
Group size: max 7, min 4
10% OFF PRIVATE LESSONS!!!
Private lessons are a great way to make rapid progress to your snowboarding. Make the most of this exclusive offer and maximise your progression with lessons designed specifically for you. Please enquire for further info and availability for private snowboard lessons in Avoriaz during TSA week.
BEGINNER GROUP LESSONS:
Is this your first time snowboarding? Starting Monday 17th April we are running for 4 x 2 hr sessions in Avoriaz for absolute beginners. This is the best way for you to start snowboarding, learn the fundamentals from one of our great instructors and have fun in a group. Small group size with maximum of 6 per group (min 4) and cost to join is 195€. Please get in touch if you think this could be of interest to you!
PLACES ARE LIMITED, SO GET BOOKED ON ASAP:
+33 450 84 13 88