Tag Archives
"mini shred"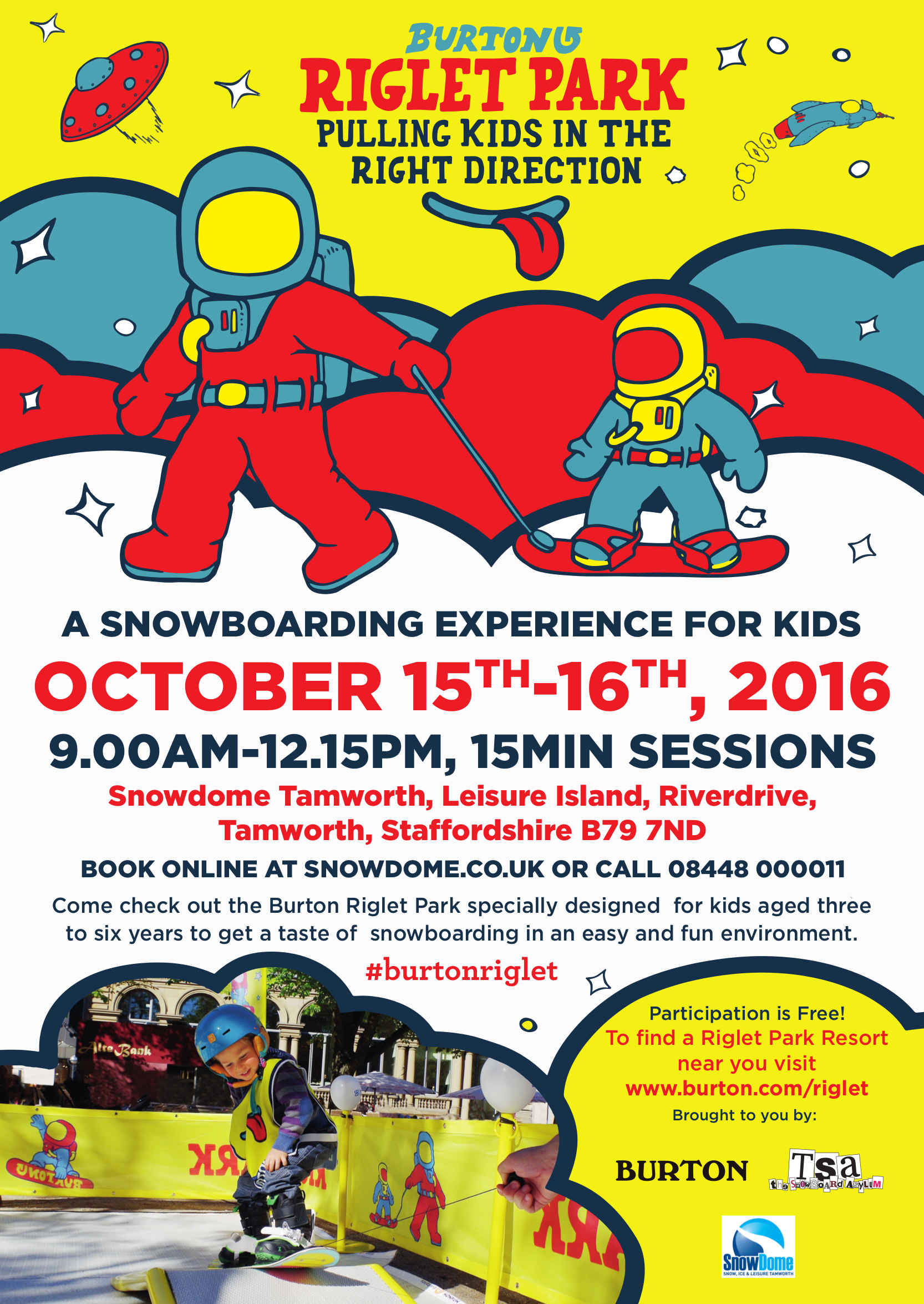 For all those with kids of Mini-Shred age and eager to get their feet on a snowboard, the Burton Riglet Park will be at Snowdome Tamworth for The TSA Big Bang. This is the perfect opportunity for your kids to experience snowboarding for the first time and perhaps before you commit to a winter holiday to the real snow!
Sessions are FREE and will be held on both Saturday 15th October and Sunday 16th October 2016 between 9:00 am and 12:15 pm. If you are lucky you might even get Tammy from MINT Snowboarding as your instructor! We will be around for any questions you might have on getting your child snowboarding.
Make sure you pre-book your session via the Snowdome website www.snowdome.co.uk or call them on 08448 000011.
The Burton Riglet Park is especially built for kids aged three to six years old and is designed to give them a taste of snowboarding in a fun and easy environment. On average it takes 15 – 20 minutes for to complete the experience. The Burton Riglet Park is on snow so please dress your children accordingly as it will be cold. Gloves, jackets, hats etc will be needed.
If the experience at the Burton Riglet Park turns out to be a blinding success for your kids, why not take look at the some of the Mini-Shred holidays we offer in the French alps. We are giving away FREE kids snowboard lessons to those booking on our Family Snowboard Mini-Break in December. Or join us for a Mini-Shred week over Easter to enjoy lots of sunshine and longer days.
To see more about what snowboarding for the under 6s is all about, check this video:
So have we convinced you to join us at Tamworth in October? Check out the full program at the TSA Big Bang 2016. And make sure you drop by the Burton Snowboards demo fleet if you fancy a blast on some of winter 2017 collection.