Tag Archives
"Keep a Breast"
.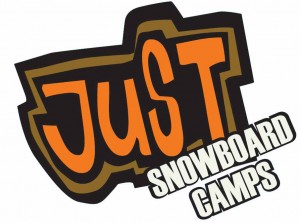 So the last snowboard camp of the season is over and what a fun week it was! It was cool to have a camp filled with Just Snowboard camp returners who were back for the 2nd, or even 3rd, time and all solid riders. From NYC gangsta Mariesa, surfer Manon, ever-smiley Fi and the original camp legend Glenda there was no shortage of friendly faces and giggles in Morzine that week.
It was a week of soft, slushy snow with even some fresh and spring snow thrown in… so perfect conditions for heading to the park for some freestyle progression. The soft snow was great for learning new tricks and the more and more the boards were flexed the better the jibbing got.
The one bad weather day (and believe you me, it was seriously fogging and dumping with wet snow) was far from being a lost day at the pub and instead turned into one of the best riding days of the week! After a few runs of freestyle jibbery there was time for a quick hot chocolate stop at Avoriaz's well known Changabang whist Mint coach Tammy got to work taking everyone's highbacks off and readjusting their bindings! Everyone's fears of riding without highbacks were quickly thrown out of the window and despite zero visibility the progression in everyone's riding was insane. Quote "In all my years of teaching snowboarding, I have never seen such massive progression in such a short space of time" Tammy. In the afternoon the gang didn't bat an eyelid to one of the infamous 'Olly Challenges' which involved some rather adventurous off-piste… and all done no-back style! Hellyeah girls!
Mid-week on the camp; tired bodies (even after a stretching session with the fantastic Sarah) and a day off from coaching with Tammy. A day to relax? Not a chance, there is always more fun to be had and new challenges to enjoy. This time the gangsta mob were given a 24 hr challenge to film, produce & edit their own snowboard movie. They were give a tiny Flip video camera and limited instructions or rules… and what an awesome video they came out with! See below. Thank you to Glenda for the editing.
Enough chat, but it is fair to say that the rest of the week continued in the same style: jumps, tricks, adventure, photo shoot, progression, smiles, laughter, cake, mutzig, aching bodies, gangsta moves and much more…!
Thanks to Herd Headwear, Bluebird Wax, the Keep a Breast Foundation, Flip Video & Les Ettes for their support in the Just 4 Girls camps this winter.
Check out some of the photos from the week as well as the video challenge movie: