Tag Archives
"instructor training"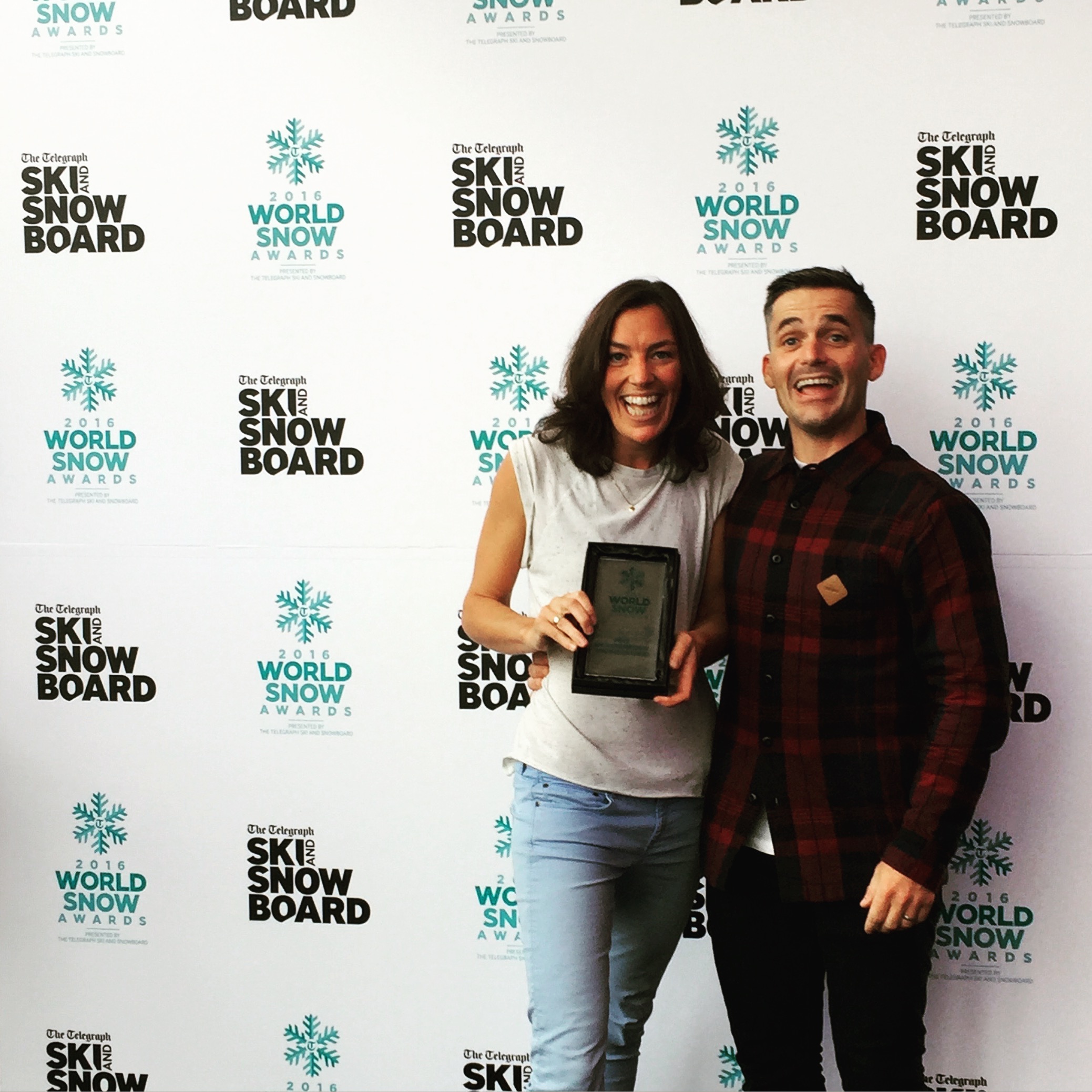 The World Snow Awards were announced on Thursday 27th October, where MINT Snowboarding was shortlisted in the finals for Best Snowsports School. This award saw us up against stiff competition from several large, well established ski schools with a passionate following. We were therefore totally stoked to have been awarded the title of 'Best Snowsports School 2016'!
This award means so much to us as a small, independent snowboard-only school. There is no doubt that we could not have achieved this without all of your support, so thank you so much for taking the time to vote for us!
The World Snow Awards ceremony was held at the Ski & Snowboard Show at London's Battersea Park with awards presented by Telegraph Ski Editor, Henry Druce. These prestigious awards honour the very best in the world of skiing and snowboarding, recognising the best brands, retailers, resorts, operators, venues and personalities in the industry.
So how did we manage to win? What makes MINT Snowboarding so special? Every year, for the past 10 years, we have delighted clients who report back to us with glowing reviews; whether it's joining a group course, an improvement snowboard camp, a backcountry course, a private lesson or even training to become an instructor.
WE HAVE A GREAT TEAM
Our snowboard instructors are second to none. They could not be higher qualified. They could not be more skilled. And they are overflowing with passion for snowboarding and sharing this with you.
The office team are equally rad. They really do care that you are booked in for the right lessons to help you progress, or the right adventure to give you that buzz. They make sure the booking process is seamless and that you have all the information you need to get the most of your time with our instructing team.
WE ARE IN THE BEST RESORTS
We operate in a fantastic area for snowboarders of all levels and interests. If you are a beginner or improver then Morzine & Les Gets offer endless wide, treelined pistes to cruise on. For freestyle riders, you simply can't beat the snowparks available in Avoriaz. And for off piste & backcountry, we all know the Portes du Soleil ski area is vast. This means that the opportunities to scale surrounding summits, not accessed by ski lifts, are just endless.
WE OFFER AN AMAZING EXPERIENCE
However many times you have ridden with us or whatever level you ride the experience with MINT Snowboarding is always second to none. Our amazing team of instructors and office staff love snowboarding as much as you do. They will look after you from initial contact through the end of your lesson and beyond, we are committed to giving you the best experience possible.
Throughout your holiday with us you will be amongst likeminded people who are passionate about making sure learning is fun. Whether you are a complete beginner riding on snow for the first time, want to ride tree runs, powder, bumps, learn new tricks or ride off-piste snow, our team will give you the confidence to conquer your snowboarding goals.
Our glowing reviews have led to us continually holding the Number 1 position on TripAdvisor of things to do in Morzine. Check out here for a full list of our achievements over the last 10 years.
If you're keen to find out what makes MINT Snowboarding so special, why not join us in the Portes du Soleil for a private lesson, snowboard camp or course, group course, family snowboard holiday or instructor training.
Here is what the Telegraph said about MINT Snowboarding:
Best Snowsports School: MINT Snowboarding
Olympic medallist Jenny Jones says of MINT: "Tammy is an incredibly passionate snowboard instructor. Combine this with her technical knowledge and years of experience and there's no doubt you will come away having noticeably progressed your snowboarding and had a flippin' rad day!" This ethos runs throughout the Morzine-based snowboard school.
We are stoked to announce that our partners Peak Leaders have also collaborated with Burton Snowboards, helping us to train the next generation of snowboard instructors on Burton's latest teaching philosophies and methods.
Here at Mint Snowboarding, an official Burton 'Experience snowboarding' Centre we will be coaching the trainees over 10 week course in Morzine, France starting early January 2013. Mint will train the Peak Leaders trainees primarily for their BASI Level 1 and 2 instructor exams and the 'Experience Snowboarding' philosophies and methods will be taught additionally.
Burton's 'Experience Snowboarding' programme dramatically changes the dynamic of a snowboard lesson and allows instructors to use specifically designed terrain and specially designed Burton 'Learn To Ride' product.
During the 10 week programme in Morzine, trainees will have the opportunity to shred with Burton Team riders and have an 'uber tech session' with their in-house experts. Not only that but all snowboard trainees will be offered Burton gear at a very special rate!
Burton may also select the strongest trainees to use as instructors and helpers at their Riglet Camps and Demo days in the UK.
For more information on our instructor training program with Peak Leaders check here.
.


Peak Leaders launches Snowboard & Ski Instructor training course in Morzine, France, alongside Mint Snowboarding

Peak Leaders, well known to be a market leader in wintersport gap programmes & instructor courses, have selected Mint Snowboard School to run their new snowboard training course taking place in Morzine, starting January 2012. Clients taking part in the 10 week instructor training program will benefit from a tailor made coaching program designed by top BASI snowboard coaches from the Mint team.
'We are stoked to be collaborating with Peak Leaders to run the first ever gap snowboard programme in the Portes du Soleil. Morzine, often called the 'snowboard capital of Europe' is the perfect place to run a snowboard instructor course. As one of the original British snowboard schools in the French Alps and offering an exclusive quality of service, here at Mint we feel that Peak Leaders are our ideal partners in this project as a well -established, professionally run organisations with a fantastic reputation.' Tammy Esten, Director Mint Snowboarding, BASI ISTD Snowboard Instructor.
During the first 3 weeks, students will train towards, and then take, the BASI Level 1 exam, providing them with an excellent foundation to then continue working towards the BASI Level 2 exam to be sat at the end of the program. During the course, students will participate in over 25 hours on snow development time per week, with structured and focused practice sessions and personal performance training. Included will also be backcountry clinics, freestyle clinics (inc. jumps, rails, halfpipe, flatland tricks), ski/snowboard school experience as well as first aid certification!
Clients will be provided with a fully inclusive package including full area lift pass, stunning chalet accommodation including breakfast and evening meals 5 days per week.
The Peak Leaders Snowboard Instructor Course will be run alongside a Ski Instructor Course run in association with BASS (British Alpine Ski School). "For over 10 years, BASS have run a very successful Professional Training Programme in Morzine that has supported countless BASI Members as they progress through their Ski Instructor qualifications. We are delighted and very excited to be working in partnership with Peak Leaders in delivering a 10 week GAP programme in Morzine. Peak Leaders are recognised as the market leaders in their field with values, standards and philosophies that compliment our own. This relationship makes for an exciting, high quality partnership that will deliver a GAP programme that is second to none!" Jaz Lamb, Director BASS Morzine & Les Gets, BASI Alpine Trainer, BASI Demo Team Member.
'We are delighted to announce our latest instructor training program, that not only allows our clients to gain internationally recognized qualifications, but the opportunity to train with some of BASI's most qualified Trainers and Coaches and improve all areas of your skiing and riding, including off piste, freestyle and racing, says Mhairi Hughes from Peak Leaders.
Visit the Peak Leaders site for further information on the course http://www.peakleaders.com/courses/morzine-ski-snowboard-instructor-course/