Words by Tammy Esten – Founder of Mint Snowboarding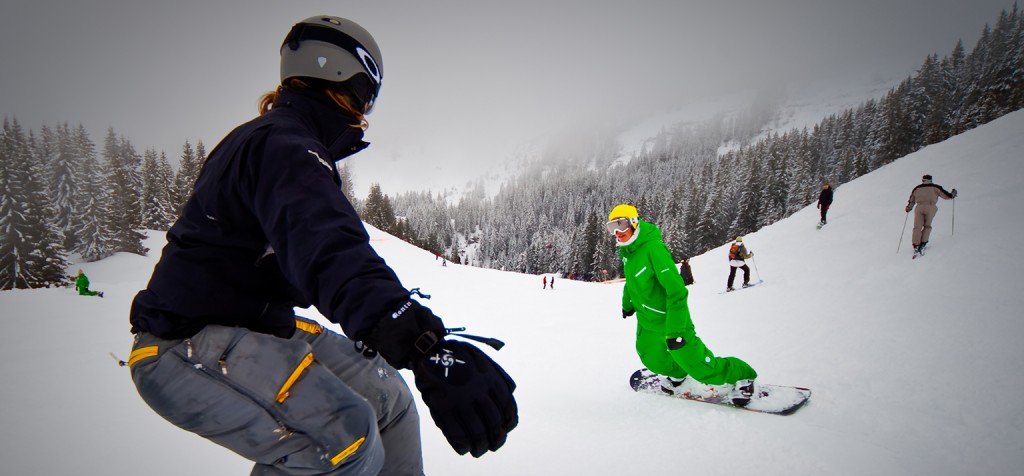 As the owner of Mint Snowboarding and having spent the majority of my life in the alps sliding around on snow, I can definitely vouch for the extreme fun in snowboarding. This is a fun that invades snowboarders of all levels & generations, often turning rather obsessive! It's a fun that should exist from the first time you strap a snowboard to your feet… and it should never die out. This is why professional instruction is so important.
Taking lessons… as a beginner?
So you want to learn to snowboard… a great idea! Taking lessons, vs teaching yourself, will teach you the basics using a tried & tested program involving a gradual progression of skills. This will build your confidence along with your skills and help reduce risk of injury. Your overall rate or learning will be much faster as well as preventing you picking up bad techniques that are difficult to get rid of once they are set in.
Snowboard lessons are designed to be fun and a good instructor will ensure that your stoke levels are sky high at the end of each lesson. Your snowboard instructor will also ensure you are learning on the optimum equipment for your level and that it is set up correctly, specifically for you. The trained, eagle eyes of an instructor will enable them to give you individual feedback directed on where you are going right or wrong. These are things an untrained eye is not able to pick up on.
If you are investing in learning to snowboard and taking a snowboard holiday, I cant stress enough the value of spending a little more to ensure that you enjoy one of the best holidays of your life rather than ending up frustrated, bruised, battered and angry with your partner / friend. Don't loose out on the fun & excitement of what could become your favorite hobby!
Taking lessons… as an intermediate or advanced rider?
Due to the initial steep learning curve with snowboarding, relative beginners can quickly get around the mountain with ease (and often a general lack of control). However these riders will soon hit a frustrating plateau very early on in their snowboarding 'careers' and struggle to progress any further no matter how much time they spend on snow. So many people fall under this somewhat wooly category of an intermediate… and so few people get beyond it. The best way to avoid this frustration is to get some professional coaching from a Technical Performance course.

Many snowboarders complain that they only get a weeks snowboarding holiday a year and thus this time is very precious to them and they don't wish to 'waste' this time & money in lessons. They couldn't be more wrong! This time could be put to great use learning news skills. Progression equals fun!
Knowing how to improve and what to work on will boost the fun factor and keep you motivated. Snowboarding is awesome, but snowboarding is ten times more awesome when you feel that you are progressing; whether it be learning new tricks, riding new terrain or discovering new aspects of snowboarding, such as splitboarding. For example, imagine the feeling of landing your first 360 when you had previously never dared dream that it might even be possible.
There's always something new to try, that's one of the joys of snowboarding!
And for those who have already progressed to an advanced level, do you think that the likes of our Olympic Bronze medalist, Jenny Jones, have got there without a coaching? Quite simply, no. Remember, a ninjas training is never complete.
What type of lessons should I take?
Lessons can come in all sorts of formats; from private lessons to group courses and snowboard camps to specialized courses & sessions. Find something that works for you.
Whilst generally more expensive, private lessons can be a great way to speed up the learning process, whatever your level or aims. Get exactly what you want out of a lesson that will be designed specifically for you, private snowboard lessons are the ultimate way of achieving your goals as well as offering a great way to boost confidence for a nervous learner.

Group snowboard lessons allow you to enjoy the experience of learning with others of the same level and are a cheaper option. If you take lessons at a reputable school then group sizes will be small (ideally max 6) and you should receive individual attention within a group lesson setting. Group lessons are not just for beginners; intermediate and advanced riders should look out for technical performance courses and freestyle sessions.

One of the best ways to progress your riding is by joining a snowboard camp. These are designed with solo-travellers in mind and are designed to be a week dedicated to fun and progression. You will find that a full week of coaching gives you time to make solid changes to your riding, get new tricks dialed or spend a full week shredding the backcountry.
Can I learn from a friend / partner or teach myself?
The simple answer is NO! A highly qualified instructor will have a wealth of knowledge, techniques & experience not just in how to actually snowboard but also in how to teach snowboarding. This just cannot be matched by a friend, who no-doubt has a bunch of bad snowboard habits themselves, as well as no idea how to break it down, teach & analyse… even with the best intentions. A good snowboard instructor also has endless patience, empathy, creative teaching techniques… and will not give up on you, no matter what. Keep happy relationships with your friends & partners and invest in professional teaching!
There really is no substitute for a lesson from a professional instructor. Whether it's your first time on snow or you've been snowboarding your whole life, everyone can progress with a little help.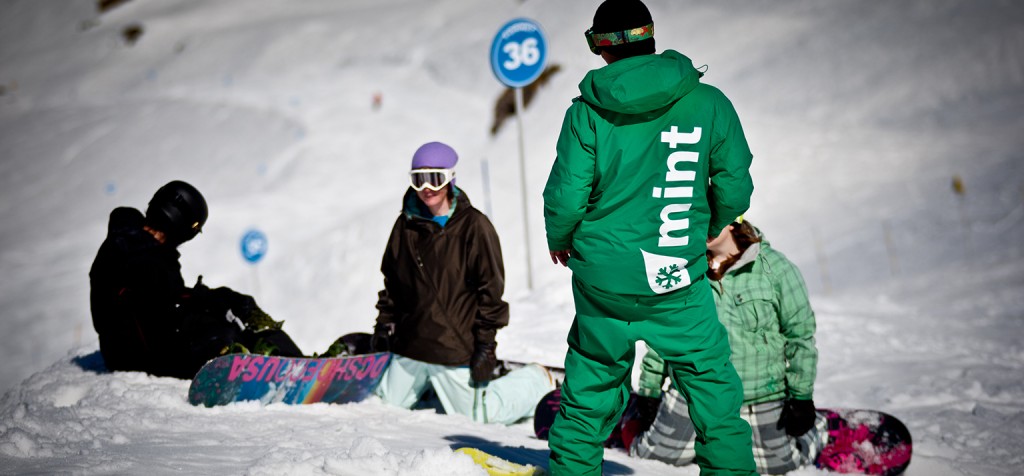 About Tammy Esten
Tammy is the owner of Mint Snowboard School in Morzine / Avoriaz and has been teaching snowboarding for over 13 years. Not only does she have an incredible passion for snowboarding, but also for sharing this love with others. Mint Snowboard School offers progression for everyone, beginner to pro, via group lessons, private tuition, snowboard camps and instructor training. They also specialise in freestyle coaching, mini-shred lessons, backcountry guiding & splitboarding.