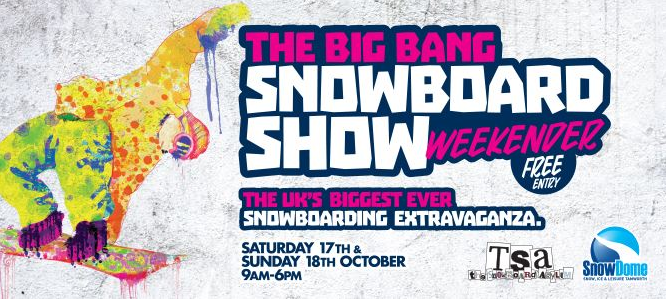 It's back for 2015, The Snowboard Asylum and the SnowDome will be bringing you TWO whole days of snowboarding action at Tamworth on 17th & 18th October 2015.

Back by popular demand, book your non-snowboarding pals onto a Welcome To Snowboarding Snowboard Beginner Taster Lesson for ONLY £10 per person, for adults and children aged 8 years+. Younger kids can join in with the free Burton Riglet Fun Park for 3 to 7 year olds.
Tammy from Mint Snowboarding will be holding FREE coaching sessions for kids and another for girls-only. She will be taking a Kids under 8 Shred Class along with a Girls-Only Session. These are being held on both the Saturday and Sunday, so get booked on quick!
Meet Team GB who will be around for the entire weekend. To boot, there will be the UK's largest free hardware demo, with all the latest 2016 kit to try out on snow. Free freestyle and technique coaching sessions are also on offer .
Plus, there's an afternoon freestyle park from 2pm on both days and a The Big Bang Jam from 9.30pm on Saturday.
•  Meet Team GB snowboarders
•  Free Burton Riglet Fun Park (intro to snowboarding for kids 3-6 years)
•  Snowboard Beginner Taster lessons ONLY £10 (for adults & children 8 years+)
•  The UK's biggest free hardware demo
•  Free coaching sessions with Mint Snowboarding
•  Free freestyle coaching with Definition & Team GB – ride with the stars
•  Free coaching from Snowboard Coach to fine tune your skills
•  International pro rider guests
•  Afternoon freestyle park from 2pm
•  Nitro movie premier from 7.30pm
•  The Big Bang Jam – Saturday from 9.30pm
All sessions can be booked online below. Big Bang Snowboard Show special deal, 3 hours recreational pass only £39 adults (£30.60 members) and £33 juniors (£26.10 members) when pre-booking by Friday 16th October.
Riders attending free coaching sessions or demo-ing equipment must be at the recreational standard AND PURCHASE a valid recreational pass to cover their time on the slope.COACHING SESSIONS NOT BOOKED IN CONJUNCTION WITH THE PURCHASE OF A SUITABLE RECREATIONAL TICKET WILL NOT BE RESERVED.
For the complete timetable overview and online booking, check out the What's On page.