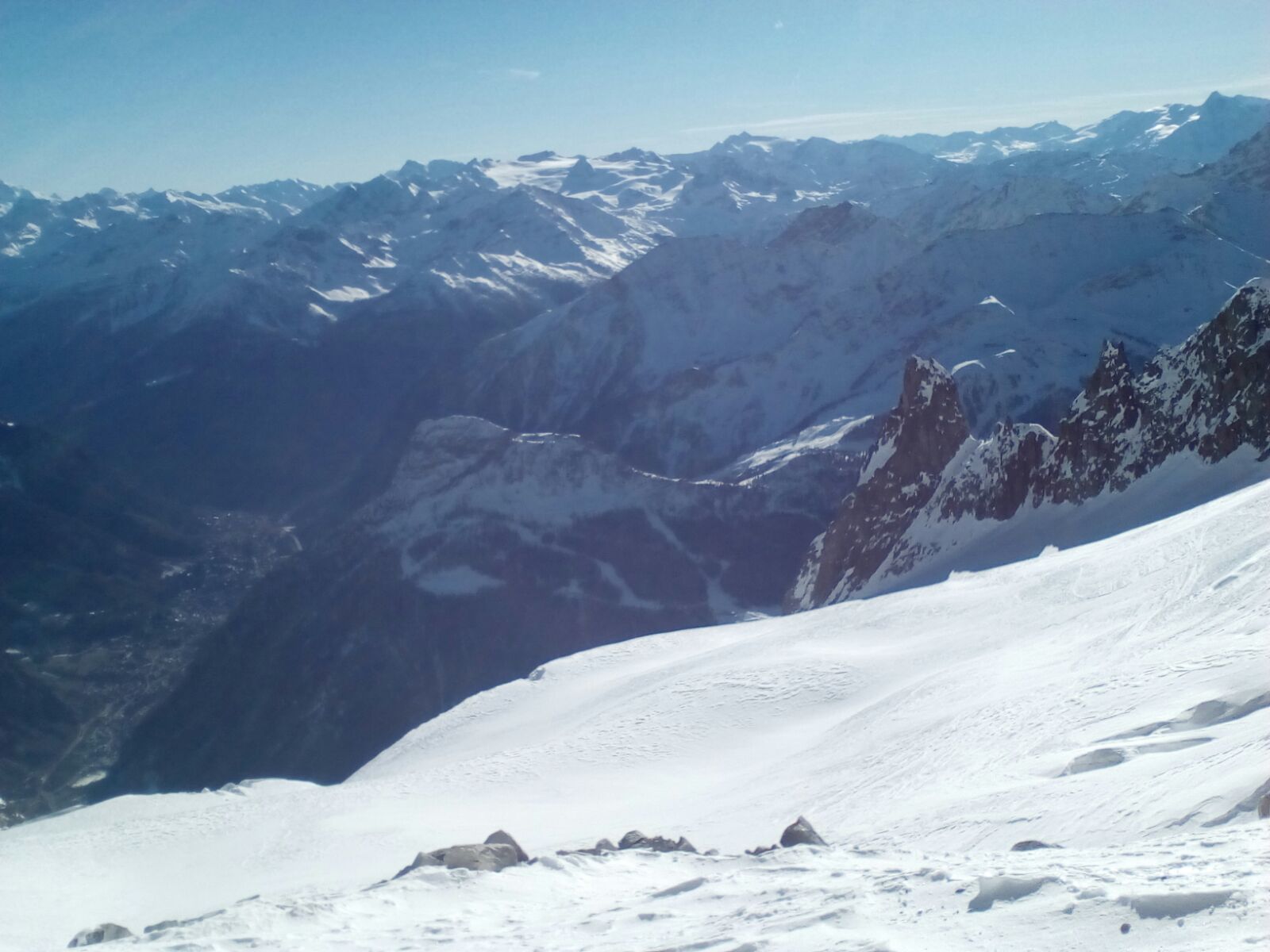 We've mentioned before about our instructor David Gladwin passing his UIAGM exams which means he is a fully qualified Mountain Guide who can take anyone anywhere in the world. We put David's qualification to full effect last week when we sent him off along with three of our clients, Sophie, Peter and Sylvain to the Italian side of Mont Blanc for an epic day of off piste riding on the glacier de Toule.
An early start was needed for the drive to Chamonix to pass through the Mont Blanc tunnel into Italy and then onto Courmeyer in the Valle d'Aosta, where the very shiny new 'SkyWay' lift takes you up to the Punta Helbronner lift station at 3400mtrs.
Sophie, Peter and Sylvain are all experienced off piste snowboarders but none of them had ever climbed or abseiled before so it was down to our guide David to teach them everything the needed to know and to keep them safe in the mountains.
After a mountain safety brief from David the team stepped into climbing harnesses, strapped on their crampons, tied into the rope and made their way across the snow to the Col du Flambeau and then on towards the Col Oriental de Toule.
The team then hiked from the col Du Flambeau to the top of the Col de Toule. From this point a number of abseils, a bit of down climbing and some steep ladders were needed to access the top of the Glacier de Toule where the fun snowboarding could start.
Safely at the top of the glacier everyone could take off the mountaineering equipment and strap on their boards. With open views of Mont Blanc and the Grand jorasses and no one else to be seen on the mountain it was time to do what everyone came here for.
The snow conditions were perfect with plenty of bowls full of wind transported snow the team had a great afternoon of riding, with this epic glacier descent all to themselves.
As the team descended further down the glacier the snow softened up nicely and the group was riding well so we decided to spice things up and tackle some steeper descents. The team were briefed on safe travel techniques and snow and terrain analysis and everyone discussed the best line of descent and entry and exit points before they set off.
The steep terrain was definitely the highlight of the trip, everyone held their own, carving their way down the rest of the glacier to the Sky Way midpoint station at the Pavillon du Mont Fret
At the midway station with everyone pretty tired and having had an epic day out in the mountains the team made their way back down to the cars to head home for a well-deserved beer (or three).