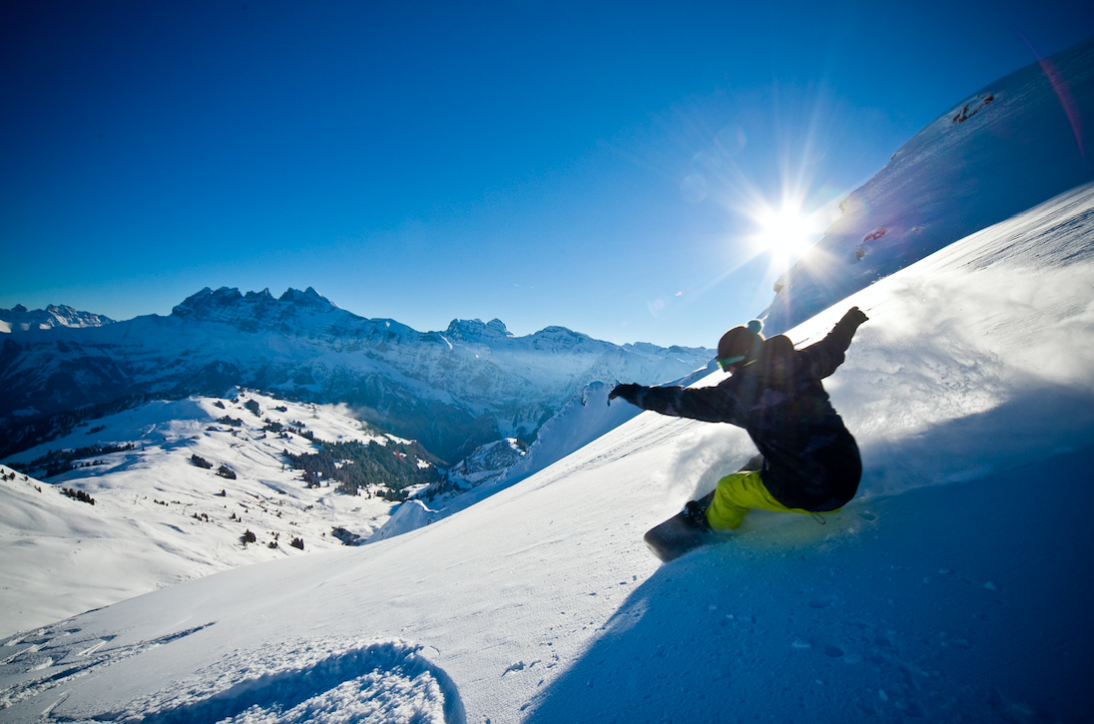 16th – 23rd December 2017: All levels
Get ahead of the game with a sneaky early season master class to kick start your winter and progress your riding with our Beginner, Intermediate and Advanced level Technical Performance Snowboard Camps.
MINT Snowboarding brings you 5 full days of snowboard coaching and 7 days half board chalet accommodation in Morzine, France. This popular December snowboard camp has been running for the last 11 years and is guaranteed to get you flying for the rest of the season.
The camps are aimed at all abilities with clients being split into groups according to their riding level. Group sizes are small with a maximum of 6 per group.
For Beginners & Improvers the aim is to teach you the fundamentals of the sport to give you a strong base riding level to build on in the future.
For Intermediate & Advanced level riders the aim is to further develop your riding skills and progress all areas of your technical riding to create a solid riding platform across the whole mountain. A full week snowboarding with a professional will make huge changes to your riding.
Interested?
Then follow the links above for more detailed information according to your level. Find out exactly what's included and all the extra bits you need to know.
Travelling alone?
Not a problem! Our snowboard camps are designed with solo-travellers in mind. They are a great way to progress your snowboarding, learning in a small group with others of the same level… and you will end the week with a bunch of new snowboard friends from all over Europe and beyond!
What about the snow? 
We have been running this December Snowboard Camp for the past 11 years, over the same dates in December, and with great success every year. Some years obviously the snow is better than others, but we've never suffered from not enough snow to run it. December 2016 the snow conditions were the most tricky so far, but we had 30 incredibly happy campers and no-one felt that the snow conditions had any affect on their holiday experience! For other years, it's powder over your head and a deserted resort – proof in the photos below from previous December Snowboard Camp:
Convinced?
Get in touch to make a booking or ask us any questions you have on the December Snowboard Camp 2017.
Book Now
Not yet, want to see some reviews? 
Best one-week activity camp: Don't think that further explanation is needed: my week of snowboarding with MINT was the best 1-week-activity camp I've ever been to (and the standards are high, as I've been to many surf camps and some other winter sports camps too). The whole package (place, accommodation, instructors, food, other participants) was perfect. In one word: perfect vibe!
Absolutely loved it can't get enough: Loved every minute of it. From Iban's (the instructor) patience, dedication and jovial attitude and the small group feel, it made it feel like a snowboarding holiday with new found friends. And the wonderful chalet experience with Treeline, those delicious three course dinners were a delight and much needed for 5 full days on the slope. Overall, I'd say it's the kind of holiday you'd turn into an annual trip!
Eat-Sleep-Ride-Mint 12.2016: This was by far the best snowboard vacation for me. The chalet, the food, and of course the unrivalled quality of the instructors were all so good Mint really took care of every thing and the whole day course was truly epic!! I highly recommend this camp/ vacation/ epic fun to any one who is into snowboarding!!
Where Snowboarding is King, not just and afterthought or an add-on!: The team at Mint are professional from start to finish, they have a genuine desire to improve your boarding. I joined one of their early season camps as a single traveler and found the group that I was staying with to be amazing. I have been snowboarding for 20 years and have really honed some of my bad habits. The instructors were focused on everything about my boarding from body position, weight distribution, heal and toe pressure, upper body rotation, weighting and unweighting etc etc etc. They picked up on the little things that can make a big difference to your ridding. My thanks goes out to Tammy and her team of inspiring instructors who want to make your riding better! I have already discussed with two friends attending the 2017/18 early season camp in December.
Intermediate Snowboard Camp: I have never progressed so much so soon. And I had a great time too! Tammy and her team are fun to be around, enthusiastic and have a great system of teaching. Cant wait to come back!
4th time back, still progressing nicely: This is my 4th course with the Mint team (3rd Technical Performance Camp) and the courses just keep getting better and better, and more worthwhile. And from the feedback I was getting, its really paying off.
Worth mentioning that I was on the course on December 16th 2016, and yet another disappointing show on the snow front. But with the Mint team being what it is, they just looked past the rocks and set us all off on the pistes that were open. The Avoriaz piste teams they did an excellent job in maintaining and producing snow the way they did. The snow we actually had to ride wasn't that bad at all. The group soon forgot about the lack of snow and started slashing around the deserted pistes we had all to ourselves. One benefit of a December ride!
Mint do a great job in integrating the whole camp together with meetings in the day and night, so everyone on the whole course from beginner to advanced can meet up, chat and compare bruises. By the middle of the week it was more like a group holiday of mates than individuals coming to improve their snowboarding.
Time to book!
Book Now