Monthly Archives
"November 2015"
Skiidy Gonzales are offering a 5% discount for winter 2017 – 2018 on airport transfers to Morzine, Avoriaz, Les Gets. Use the discount code 'mint18'
Following on from the enormous success of last April's local kids snowboard camp (see photos below), we are totally stoked to be running a subsequent weekend camp this December. We want to get your kid's sliding and ripping before things get hectic and Santa drops by.
For children aged 3 years and up, the snowboard camp is open to all ages and levels; from first slide, first turns, to confident cruisers or those who already rip and wish progress their freestyle. Groups will be running to suit all levels and we will make sure each child is suitably placed.
Details as follows:
Dates: Saturday 12th & Sunday 13th December 2015
Times:
Saturday 12th: 13.30 – 15.30 hrs
Sunday 13th: 10.00 – 12.00 hrs
Meeting Point: Top of the Prodain cable car
Cost: 90€
Group size: max 6, min 4 (with max group size of 4 for the younger ones (and added help from trainee instructors))
Levels: All level groups running. From first slide mini-shred (3 – 6 yrs), to those who have had an intro to snowboarding already, confident cruisers and freestyle rippers.
If the above sounds of interest and you want to get your kids involved in The Mint Local Kids Snowboard Movement, then please get in touch.
We'd like to know the following:
» Name of your child
» D.O.B.
» As much info as possible on their previous snowboard experience (how many times have they given it a go, are they turning yet, if so on what types of slopes etc)
Book Now
Watch this space:
We aim to run a series events throughout the winter for local kids!
Come join the Mint Local Kids Movement this December!
QUESTIONS & ANSWERS:
Older kids / Teens / Kids that already rip: Yes we will have groups to suit them all!
Not sure if your child is ready yet? We are  running a shorter, 1 day alternative for those tiny tots who just want a taster. Details as follows for our Micro Shred Session:
Date: Saturday 12th December
Time: 10.30 – 11.30 hrs
Cost: 30€
Age: 2.5 & 3 yr olds
Instructors: Max 2 kids per instructor
Meeting: Dependent on snow. Up on the Plateau in Avoriaz or if conditions allow we could do it at the bottom of Prodain. I want to avoid the top of Prodain which will be busy with the Rock on Snowboard Tour opening event and not suitable for the 
tiny
 ones.
Are you new to the idea of mini-shred? If so, let us fill you in:
Photos from last April's Local Kids Camp: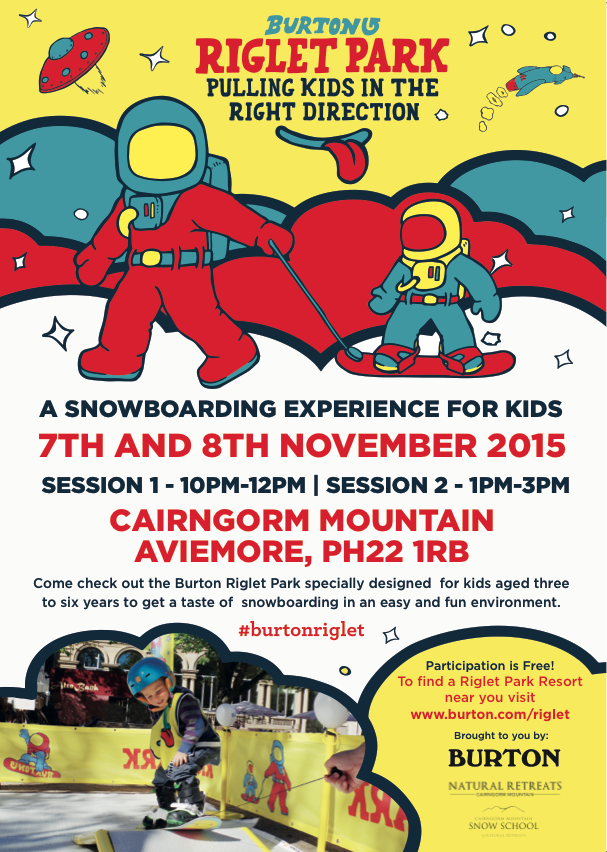 The Burton Riglet Park is back on the road and will be at Cairngorm Mountain Resort this weekend. This is the perfect opportunity for kids to experience snowboarding before the winter.
We will be running two sessions on both Saturday 7th and
Sunday 8th the session times are:
Session 1 10am – 12.00pm
Session 2 13.00pm – 15.00pm
The Burton Riglet Park is especially built for kids aged three to six years old and is designed to give them a taste of snowboarding in a fun and easy environment. There will be instructors on hand to help pull kids in the right direction and on average it takes 15 – 20 minutes for them to complete the experience and even win there own Riglet Park Medal! No need to book please just turn up during the above session times. Check out the Facebook event page.
Most importantly participation is FREE!
To see more about what the Burton Riglet Park is about check out this little video:
Cairngorm Mountain Resort will be a full Burton Learn to Ride and Riglet school for this winter so please pop by and see them to get up to date on all snowboard lessons for this winter. Click here for everything that is going on this weekend.
And of course Mint Snowboarding offers Mini-Shred snowboard lessons out in the French ski resorts of Morzine, Avoriaz, Les Gets & Chatel. We use the Burton Riglet equipment and the whole mountain is our playground! We also offer Mini-Shred snowboard holidays, in association with Burton Riglet, in Morzine, France.
To keep up to date on all things Burton please follow Burton Snowboards UK on Facebook and Instagram.
Burton, pulling kids in the right direction.
#rigletpark #minishred