Monthly Archives
"September 2013"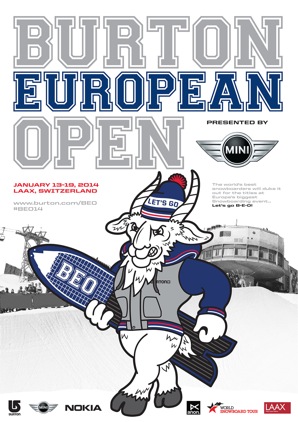 Excitement is growing fast upon winter's forthcoming arrival and preparations for the 2014 Burton European Open (BEO) are about to begin in LAAX, Switzerland. Scheduled for January 13-19, this season's BEO will be the last relevant contest in Europe before the Winter Olympic Games, therefore the last chance for many riders to qualify for Sochi 2014.
Presented by MINI and held in LAAX for the 10th consecutive year, the BEO is Europe's most prestigious snowboard event and features every year more than 300 riders coming from all over the world. In a true open event spirit, amateurs and pros will battle each other on top of Crap Sogn Gion mountain to reach the BEO's finals after a snowboard week at its best.
Planned for Saturday 18th and Sunday 19th, Slopestyle and Halfpipe finals will witness the best 6 female and 10 male snowboarders competing for the Burton European Open titles, 125.000$ prize-money and a last-minute ticket to Olympic glory.
For more information head to www.burton.com/beo or check the BEO App on www.facebook.com/BurtonEurope.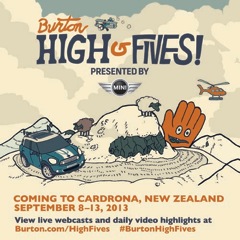 TUNE IN:      Watch the Second Annual Burton High Fives snowboarding competition LIVE on www.burton.com/HighFives on Thursday 12th September

WHAT:     The second annual Burton 'High Fives' presented by MINI snowboarding competition, is underway at Cardrona in Wanaka, New Zealand. A live webcast of the slopestyle and halfpipe competitions will be on www.burton.com/HighFives on Thursday 12th September, with the slopestyle coverage starting 1:00 am (Central European Time) and halfpipe coverage starting 10:45 pm (CET). The webcast will include live scoring, real-time standings, run replays, tour rankings, rider interviews and bios, as well as a live webcast schedule and full replays for on-demand viewing.
WHO:      60 of the top riders in the world from all over the world will compete including 2014 Olympic halfpipe hopefuls Kelly Clark (USA), Ayumu Hirano (JPN), Kohei Kudo (JPN), Danny Davis (USA), Arielle Gold (USA), Elena Hight (USA), Ellery Hollingsworth (USA), Gretchen Bleiler (USA) and Cilka Sadar (SLO). The sloplestyle is also stacked with riders including 2012 High Fives Slopestyle Champion Mikkel Bang (NOR), Jamie Anderson (USA) Silje Norendal (NOR), Tyler Nicholson (CAN) and Charles Reid (CAN), as well as local favorites Cameron Stavely (AUS), Rebecca Torr (NZL), Christy Prior (NZL), Shelly Gotlieb (NZL) and Stefi Luxton (NZL).
WHEN:    LIVE webcasts on www.burton.com/HighFives at the following times (Central European Time):
Slopestyle, Thursday 12th September          1:00 am (CET)
Halfpipe, Thursday 12th September            10:45 pm (CET)
Get event updates:
Instagram @burtonsnowboard
Hashtag #BurtonHighFives
.
This weekend we will be cycling a whooping 160km in loving memory of Nelson Pratt, pro snowboarder, friend and keen cyclist who tragically died last summer. Mint founder Tammy Esten willl be joining 500 other cyclists on this sellout, superb cycling sportive in the stunning Test Valley, near Andover.
We will be raising money for the events official charity partner CALM, The Campaign Against Living Miserably, which was set up to prevent male suicide, currently the single biggest killer of young men in the UK.
Any donations to this incredibly worthwhile cause are hugely appreciate, no matter what you can afford. Please help support Tammy in this event by making a small donation via Just Giving: http://bit.ly/17wk7d9
Tammy's training has been rather limited, being able to count on the fingers of one hand the number of training rides (which stopped 3 weeks prior to the event!). She has been focusing more on cross training activities, mainly climbing! Check out some photos from her training rides below.