Monthly Archives
"September 2011"
Winter lift passes for Morzine / Les Gets and the Portes du Soleil have now gone on sale online. Not only that but discounted rates, of up to 30% off, are available if you buy your ski pass early. Details as follows:
Discounted Morzine / Les Gets ski passes
Morzine / Les Gets lift passes are available for 20% discount until 31st October.
The earlybird rates are available for 6 to 14 day ski lift passes.
Discounted Portes du Soleil ski passes
Portes du Soleil ski passes are available for 10% discount until 4th December.
Cheap rates are available on 4 to 30 day lift passes.
Earlybird season passes for Morzine / Les Gets
Buy your season pass for Morzine / Les Gets and get 30% off before 15th December.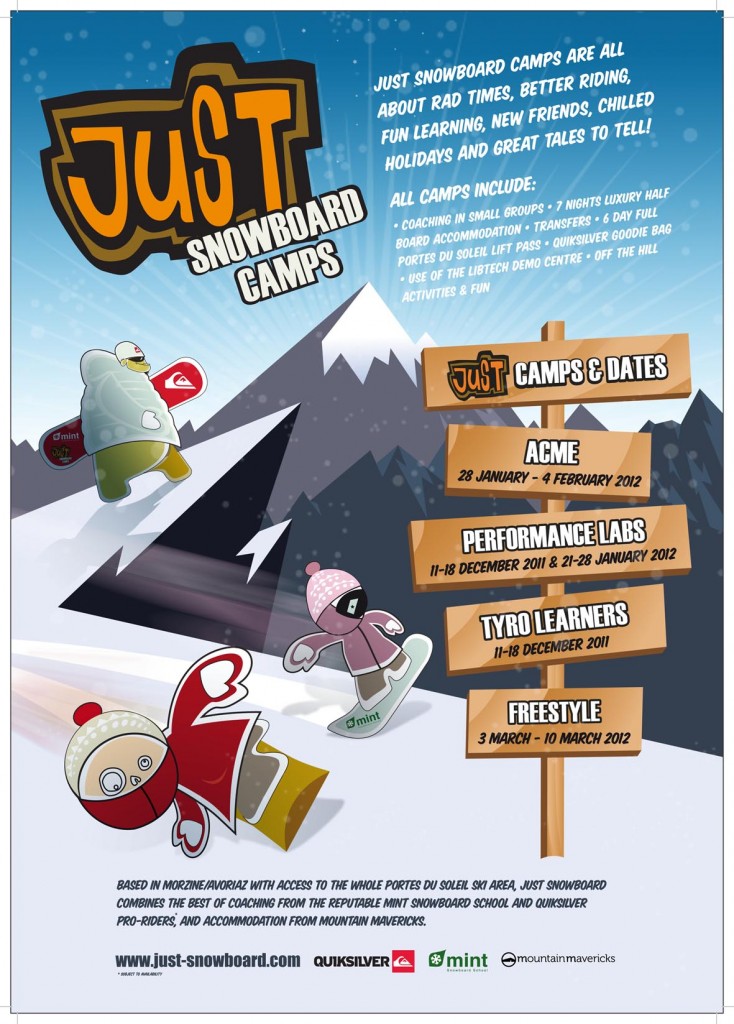 It's not long till the winter so get your snowboards waxed and ready. Just Snowboard Camps are back, bigger and better than before, for another season of helping you make the most of your shred time. Their camps are the perfect opportunity to help get your snow legs back, improve your freestyle skills and this year there is something for everyone.
Since starting up a couple of seasons back, Just Snowboard Camps, in association with Quiksilver, has come a long way. The upcoming winter schedule reflects this with a new format and some new camps to suit everyone. Once again the freestyle and performance dates are on the agenda but also this year there are two new camps to take note off:
The Tyro camp, aimed at fledgling and wannabe shredders. Everyone started somewhere and no better place to perfect the basic skills than with a course designed specifically for the early stages of riding.
The ACME Camp, for the rider who can already ride anywhere. Aimed at expanding the boundaries of where you can go and what you can enjoy whilst there, how to get into the back country responsibly and the knowledge to deal with any eventualities.
With these additions and a new two tier approach to the existing camps, Just Snowboard now have a program of events to suit all levels and can convert even the most tyronic novice into a full on shred Jedi.
The team also have more instructors. The gang from Mint Snowboarding are fully qualified to the highest international level in snowboard coaching, but each coach also brings their own distinct style and experience to the team. This enables them to have true passionate experts to take classes in all aspects of snowboarding.
Through their involvement with the camps Mountain Mavericks have been able to enhance their dedication to riders over the years, which culminates in the launch of Ridewell Lodge this winter. A chalet format aimed exclusively at snowboarders and as a result the chalet will be better suited to the needs of you. For example, more LibTech demo boards and better tech facilities courtesy of Bluebird.
For more information on Just Snowboard Camps and how to book your spot, log on to:
Whilst most people are enjoying the summer at the beach, or at least outside in the sun, Mint snowboard instructors David Gladwin and Tammy Esten along with Italian relegate Max Ruffo spent a gorgeous August day in a cave. Not just a normal alpine cave, this cave, known as  La Grande Glacière du Parmelan, was filled with ice and in perfect condition for a day of summer ice climbing! And what an epic day it turned out to be!
They set off from Morzine with just a beat up, scribbled 'map' giving a very rough location and layout of the cave and an indication of several long abseils. Once eventually found, the cave entrance turned out to be pretty intimidating, with a 60 meter abseil into the cave through a hole. Dave went first, over the edge and into the unknown; this was already turning out to be way better than your average adventure!
The following abseil, was equally impressive, taking them down a 20 meter vertical ice wall into complete darkness below. Minds were already wondering 'how the hell are we going to get out of here?'. After one further abseil and a squeeze through a narrow passageway they had finally reached the chamber in which floor to ceiling were largely covered in ice.
And so climbing began, with routes available from relatively easy grades up to seemingly impossible overhangs. Experienced ice climbers Dave and Max gave novice Tammy a quick intro and she was soon happily at the top of a pillar of ice. Next was the challenge of a much more technical route overhanging as the wall curved into the ceiling of the cave. After a brave lead by Dave, the others quickly followed and soon all had aching arms.
Any concept of time is quickly lost in such an unusual environment, however eventually down jackets were not sufficient to keep out the cold and it was time to leave. The climb out was another epic, being a fairly technical grade ice climbing route, it took longer than expected and there were a few hairy moments. By the time they made it all the way out and back up into daylight, the three rather soggy & cold explorers were happy to reach the 25℃ evening heat. It was already time to start thinking about the next adventure, unsure as to how to better ice climbing in a pitch black cave in August…

Our collaboration with Quiksilver means that the guys at Mint will definitely be heading to the London premiere… stoked!!! See you there?
Heart-stopping airs in the backcountry, stunning first descents on remote mountains and breath-taking scenery filmed in HD: as previewed in the just released, high-energy 'Metal' trailer. "The Art of FLIGHT" combines meaningful storytelling and character development with sport progressing action, all captured on state-of-the-art filmmaking equipment. Produced by the Red Bull Media House, in association with Brain Farm Digital Cinema and with the participation of Quiksilver. The outstanding new Curt Morgan film kicks off its worldwide premiere tour at New York City's Beacon Theatre on September 7th, 2011 during the Quiksilver Pro New York (ASP World Tour event). Then, "The Art of FLIGHT" travels to over 20 theatres across the U.S. and Canada, before heading overseas to South Korea, Japan, New Zealand, Australia before a massive tour in Europe. 15 stops over 14 countries are scheduled from France to Russia via Austria (2 dates), Germany, Sweden, Switzerland, Norway, Belgium, Nederland, Spain, Italy, Czech Republic, Poland and UK!
Quiksilver & Red Bull iconic rider Travis Rice, Curt Morgan and selection of the world's best riders will attend the whole tour.
For further information on tour dates visit www.ArtofFLIGHTmovie.com.
"I can't wait to meet all my friends and the riders who made this project possible. We've been working such a long time to make this happen and I am really looking forward to see how the people like what we did", Travis Rice states. The global premiere tour will offer viewers the premium way to experience "The Art of FLIGHT" using Dolby's digital cinema package file including the Dolby Screen Server DSS200 and Dolby CP750 Cinema Sound Processor used in major theatre chains
"The Art of FLIGHT" comes to Blu-ray™, DVD and iTunes throughout Europe, Asia and USA on September 8th, 2011 (check www.ArtofFLIGHTmovie.com for release dates of all territories). In Europe, the Blu-ray™ and DVD can be pre-ordered on www.ArtofFLIGHTmovie.com and will be available in Quiksilver stores, on www.quiksilver.com on September 15th and at each European tour stop. In addition to the film, Travis Rice has created The Art of FLIGHT book, an oversized, photo-driven book featuring the stunning images captured and exclusive stories made while filming. The 5,000 limited edition book will include "The Art of FLIGHT" on both Blu-ray™ and DVD, be individually numbered with a hand stamp and sold in a special collector's box at each European tour stop, in a selection of Quiksilver stores in Europe and on quiksilver.com.
Full schedule of the "The Art of FLIGHT" global premiere tour:
November 2011: 8th Munich/GER, 9th Vienna/AUT, 10th Prague/CZE, 12th Innsbruck/AUT, 13th Milano/ITA, 14th Lucerne/SWI, 16th Madrid/SPA, 17th London/GBR, 19th Oslo/NOR, 21st Brussels/BEL, 22nd Amsterdam/NED, 23rd Warsaw/POL, 24th Stockholm/SWE, 26th Paris/FRA, 27th Moscow/RUS.