Monthly Archives
"March 2011"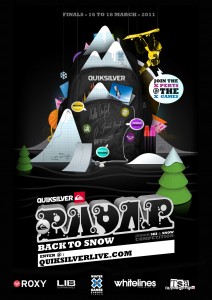 QUIKSILVER & ROXY RADAR 2011
CONGRATULATIONS TO BRITISH GROMS FIN & MONTY!
The finals of the Quiksilver & Roxy Radar were a massive success for the British ski and snowboard scene, proving that our groms have got what it takes to compete in a European level competition. Radar finalist, Fin Bremner, took 2nd place on the podium for boys Snowboard (under 12's), and Monty Wright took 3rd spot on the podium for boys Ski. Congratulations lads!
The Quiksilver & Roxy Radar finals took place in Tignes, during the 2011 Winter X Games. The contest allowed the groms to compete in an awe-inspiring environment surrounded by some of their greatest idols. Amongst others, the contest was judged by Quiksilver Pro Snowboarders Freddy Austbo, Markku Koski and Roxy's Margot Rozies, with Mathieu Crepel awarding the finalists their prizes.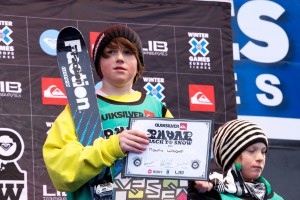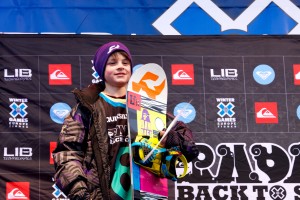 (Monty Wright, Ski) (Fin Bremner, Snowboard)
The Radar allows brands like Quiksilver to discover new talent emerging from Europe's local scenes, and to develop these kids into Europe's future snowboard and ski champions. A big thanks also to TSA, Whitelines, and Tamworth Snowdome for supporting the Quiksilver & Roxy Radar this year.
Winners of the Quiksilver & Roxy Radar Snowboard finals:
Mathias Ecklhoff (Norway) & Hanne Eilertsen (Norway).
Winners of the Quiksilver & Roxy Radar Ski finals:
Jens Johnsen (Norway) & Amanda Gustavsson (Sweden).
UK Quiksilver Team Manager and 39 year old British Snowboard Legend scored third place in the final and most intimidating leg of the Nissan World Freeride Tour – the Bec des Rosses – making him ranked 6th over all with 4,700 points. As a close friend, we are super stoked for him here at Mint Snowboarding.

After scoring impressive results from a wild card invitation at the 2010 World Freeride Tour, James Stentiford was invited again to compete against the World's toughest freeride snowboarders across all legs of the Nissan World Freeride Tour 2011.
The World Freeride Tour kicked off in Stentiford's home resort – Chamonix – where his unfortunate run scored him in at just 9th place. This didn't phase him though as 2 events later he scored podium results coming in at 3rd in both Fiebberbrunn (AUS) and Bec des Rosses (Verbier) proving that he is amongst the World's strongest freeride snowboarders.
His WFT results are as follows:
9th Chamonix
5th St Moritz
4th Russia
3rd Fiebberbrunn
3rd Verbier
As Britain's toughest freeride snowboarder, James Stentiford has become an icon for those that have grown up with him, as well as young snowboarders coming into the scene. It has been a proud few months to see him compete in such intimidating conditions against the world's best, and especially to see him score that podium in Verbier. At 39 years old, Stentiford was happily on the road to retirement but as we've all seen – there's a hell of a lot more to come out of the old man yet. Don't put those slippers on too soon stenti..Here's a few words from James Stentiford after Bec des Rosses:
"The Bec Des Rosse is an intimidating mountain, and when you add to that a helicopter buzzing in front of your face and countless camera's, it becomes an incredibly challenging experience. The emotions run higher at the start & finish gates at this event in particular as all the riders know that the consequences are that much higher. Standing at the top, I went through every emotion from fear to excitement as the adrenaline started to kick in. I tried to calm my nerves with some breathing exercises before I set off, but as soon as I was out of the gate, focus set in and I couldn't even hear the Heli buzzing above my head.
The Bec has so much freeriding history that I think I built it up to be this big monster that wanted to kill me, but once I stood on top for the first time I realized that as much as it's intimidating it's also a beautiful mountain with some great lines.
The relief when I got to the finish was unbelievable. I was just glad to be down in one piece and to get on the podium is an absolute dream. As I stood in the leaders position for live TV and riders kept coming down and not knocking me off I just thought "well at least I didn't come last… at least I made 5th place!" At the time, I wasn't that happy with my run as I made a few mistakes, so you can imagine to come 3rd was an absolute bonus.
I was convinced I was going to retire after Verbier but now I'm not so sure, maybe one more year just to see if I can win an event!"
CONGRATULATIONS STENTI! Look forward to riding with you soon…
Check out some great coverage on James Stentiford on the Telegraph and BBC Sports site:
http://www.telegraph.co.uk/travel/
http://news.bbc.co.uk/sport2/hi/other_sports/winter_sports/default.stm
Snowy mountains meet sandy beaches when ski and snowboard resort Avoriaz hosts sun, ski and snowboarding parties in the Alps during the Spring Break weekend, from Saturday 23rd to Monday 25th April 2011.

Avoriaz's beach make-over will play host to a party crowd this Easter break for wakeboarding sessions and competitions, roof-top concerts, exotic sandy bars and terraces, shopping markets, snow and sand volleyball and of course great skiing and snowboarding!
Pro wakeboarding competition qualifying rounds will kick off at 3pm on Saturday in the centre of Avoriaz, with the most skilled riders boarding-it-out for the championship crown on Sunday afternoon.
Rookies will also have the chance to take part in free wakeboarding amateur sessions on Saturday and Sunday from 10am. All riders – from great boarders to great fallers – will be captured for online films so they can share their moves. Then on Monday the best amateur wakeboarding clubs in France and Switzerland will board their hearts out to be named the best riders in the Alps.
The fun-in-the-sun will also include special beach and Latin terraces for lunchtime beers and après ski parties, open-air music, and beach and snow volleyball.
Bargain hunters will also love the discounted goodies available at the markets, offering great value on sportswear, skis, snowboards, and mountain souvenirs.
Then at sunset the party starts; from 8pm Avoriaz's bars will kick into Spring Break mode with full on clubbing from midnight until dawn.
Visit http://www.avoriaz-events.com or http://www.avoriaz.com for more information and to see a full programe of the weekend.
It was definitely a lot of fun teaching mini-shredders, Ike & Billy Fabb,  from Wales over half-term week in Morzine. There was no lack of enthusiasm from these two, who at the beginning of the week were pretty much newbies to snowboarding and by the end of the week were turning, spinning, jumping, tumbling and laughing all the way to Les Gets and back! Infact, this particular adventure was topped off by quote of the week (or of the season maybe!) from 7 year old Billy, saying that the adventure was "the size of the biggest piece of paper in the world, all coloured in and with no white bits". Amazing!
Hi tammy. just a note to say thanks for the lessons, the boys had great fun (a first for us) and seemed to come on heaps. The day after the last lesson Billy said he missed you because you were fun. Anyway here are some photos, thanks again, we will definately recomend you guys to others. Greg Fabb